Are you our new Business Controller?
Nøkkelinformasjon
Stillingstittel:
Business Controller
Arbeidsgiver:
TOMRA SYSTEMS ASA
Sted:
ASKER
Søknadsfrist:
26.03.2020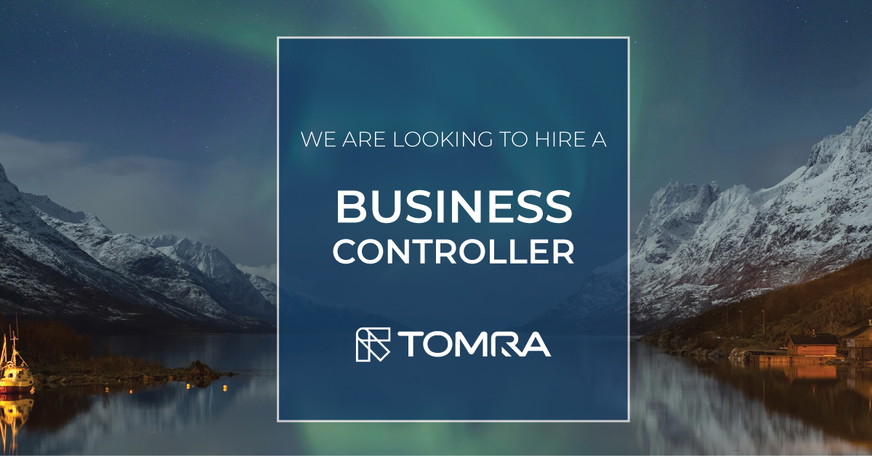 To effectively deliver reverse vending solutions to current and upcoming container deposit markets, TOMRA is looking for a Business Controller to join the Finance team in Asker. With an increasing legislative push and consumer demand for responsible plastic use options, your work will be central to ensure TOMRA makes sound financial decisions.
As a Business Controller, you will be a strategic analyst, advisor and communicator, providing fact-based insights, planning and reporting support to senior level management. You will know the Finance function inside-out and you will lead individual projects to transform planning, tracking and control processes. Using your analytical abilities and communication skills, you will both participate in and drive optimization and growth projects across TOMRA Collection Solutions. In this role, you will be expected to make recommendations based on ambiguous or incomplete data. You must be an organized, highly motivated individual with an innate entrepreneurial spirit and client-service orientation. The role reports to CFO Tomra Collection Solutions.
Roles and responsibilities:
Provide management with clear insights and recommendations into result drivers, reporting, planning and decision support.
Oversee and execute on the budgeting, forecasting, and monthly reporting processes – ensure accuracy and predictability of results and key metrics.
Engage in deep dive analyses to understand business performance and provide concise summaries and recommendations to management.
Build an effective network across internal stakeholders to address analytical and operational questions and implementation of performance improvement initiatives.
Be the point of contact and have the Financial planning and analysis responsibility for Project Management, Technology and Digital divisions.
Own and develop the capital investment approval process in HQ.
Identify new business opportunities to increase growth performance and profitability.
Qualifications:
5-8 years of experience, with 3 years of experience being in consulting or financial modeling.
Bachelor or Master degree in a quantitative discipline (e.g., Statistics, Economics, Finance) or equivalent practical experience.
Experience working with data and spreadsheets (mastering pivot tables and functions) and/or SQL.
Preferably experience with consolidated financial statements in a multinational company.
Solid understanding of finance and accounting and high ethical standards.
Good level of English, both oral and written.
Candidate profile:
Independent and pro-active with good interpersonal skills.
Willingness to learn and shape the future every day.
Attention to details while keeping focus on big picture challenges.
Eloquent and empathic communicator (spoken and written) being able to convince, inspire, and lead in a network organization.
Good business judgement and analytical/financial modelling skills.
Thrive in a strong people minded performance culture.
TOMRA offers:
Professional challenges within a growing, market-leading technology company.
A Great Place to Work: TOMRA was recently named the fifth best place to work in Norway in 2018. This is the third consecutive time TOMRA has ranked in the top 10 for Great Place to Work.
Excellent facilities with modern gym, free parking and our own healthy and varied lunch restaurant.
Convenient location in Asker – close to Oslo, Drammen and Sandvika.
Very good opportunities for professional development and competence building through participation in relevant training courses and seminars.
For further information, please contact Kristian Lennertzen, partner in Capus, phone: +47 916 16 073, Kristian Rizi, Research Analyst in Capus, phone: +47 958 12 625 or Tor Eirik Knutsen, CFO Tomra Collection Solutions: +47 950 50 062.
Please use the URL "Søk her" to apply for this position.
Application deadline: 26.03.20
Om arbeidsgiveren
TOMRA was founded on an innovation in 1972 that began with design, manufacturing and sale of reverse vending machines (RVMs) for automated collection of used beverage containers. Today TOMRA has ~90,000 installations in over 80 markets worldwide and had total revenues of ~9.3 billion NOK in 2019. The Group employs ~4.500 globally and is publicly listed on the Oslo Stock Exchange. (OSE: TOM) The TOMRA Group continues to innovate and provide cutting-edge solutions for optimal resource productivity within two main business areas: Collection Solutions (reverse vending, material recovery) and Sorting Solutions (recycling, mining and food sorting).
Only 2-4% of the beverage containers consumed worldwide are collected for close loop recycling. TOMRA has a tremendous opportunity to ensure that we keep even more bottles and cans out of our oceans, landfills and streets. TOMRA Collection Solutions state-of-the-art technology reduces material contamination and downcycling, and enables people to track the positive impact of their recycling efforts- empowering more people to get involved in creating a "clean loop" movement in the growing circular economy. Join our team at the headquarter in Asker to create a more sustainable future. For further information about TOMRA, please see www.tomra.com