Do you have a growth mindset?
Nøkkelinformasjon
Stillingstittel:
Tech Lead
Arbeidsgiver:
Mercell Norge AS
Sted:
OSLO
Søknadsfrist:
4.2.2020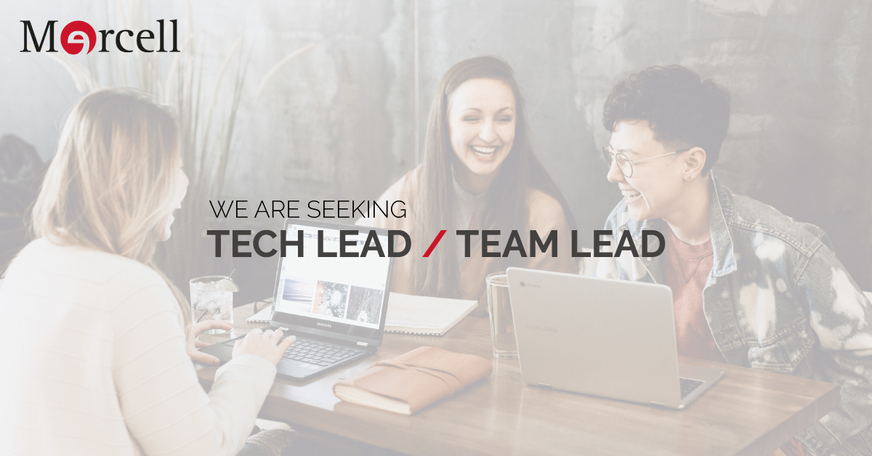 Mercell – Tech Lead / Team Lead
Mercell will build in-house product teams to establish implement new products in the company's portfolio. To lead this work we are now looking for a Tech Lead / Team lead.

RESPONSIBILITIES AND TASKS
Cooperation
As a tech lead at Mercell group, a good amount of your time is spent identifying and clearing roadblocks for your team and participating in workshops throughout the company. This requires effective collaboration skills. You need to collaborate with different business entities and functions in order to ensure your team and the company understand and cover our customer and user needs.
Task and process management
One of the most critical requirements of a good software development team is consistent velocity, and ability to deliver on its estimates. Achieving this feat, requires mastering task management way beyond simply assigning tasks to developers on the team.
A great technical leader is a great mentor
You aim to groom and mentor the developers in your team, providing feedback on their work frequently, and encourage and promote best engineering practices. You work to broaden the technical capabilities of your team and provide technical guidance. Your success is measured by the success of your team members.
Teambuilding
Your team is your best tool for success. You need to hire the right people for a diverse team, identify need for further development within the individual and see potential for individual and team development. We expect the team to be measured on what it delivers, not on individual direct contribution. The teams should become robust enough, with overlapping expertise, so it still can deliver without all of its members.
Part of the technology management team
Technology in Mercell is diverse and distributed, today the technical environment is characterized by AWS, Kotlin and Kafka and of course we work agile and with DevOps. You participate in the group wide tech leadership group. In this group you represent the teams you lead. The group consists of other tech leads from other offices and the CTO of Mercell.
YOU
Education
We are looking for a candidate with a bachelor's, master's degree or similar in information technology, or other related fields. Possibly equivalent in work experience.
Experience
We are looking for a candidate with 5-10 years of relevant experience and who is academically up to date in development and technology in general. You will work operationally with the team and act as a professional mentor.
Characteristics
We are looking for an ambitious manager or senior developer who is ready for new challenges. You should be an excellent motivator, have good interpersonal skills as well as collaborative and communication skills.
Om arbeidsgiveren
Mercell Holding AS is the leading supplier of tender platforms in the Nordic and Baltic countries, and they have entered a very exciting phase with further international growth ambitions supported by Viking Venture – a specialized B2B SaaS investor in the Nordic market.
Mercell's solutions simplify the public procurement process in accordance with EU regulations and improve buyer-supplier interaction. You will face major professional challenges and opportunities to design key IT solutions and products. We look at what you deliver, not how you work or how many hours you spend on each task.
With Northern Europe as the main market, we are currently 200 enthusiastic employees represented in 9 countries and headquartered in Oslo, Norway. 25,000 suppliers and buyers across Northern Europe use our system on a daily basis.
The offices are centrally located at Helsfyr in Oslo, seven minutes by metro from the Jernbanetorget. In April, Mercell will move to beautiful new premises in central Skøyen.